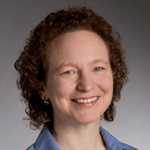 My position as online content manager for the National SEED Project is perhaps one of the few jobs that brings together the many disparate strands of my previous career choices.
At Wellesley College, I double-majored in Medieval/Renaissance Studies and Astronomy — a combination that cut across the sciences/humanities divide, but that seemed to fit the daughter of a chemist father who loved literature and a mother who worked in clinical psychology. I went on to get an M.Phil. from Oxford University in medieval history, with an emphasis on the history of science. I enjoyed seeing how human knowledge — even scientific knowledge that we think of as unchanging "fact" — is influenced by sociological, philosophical, and even theological factors.
Emerging from academia, I began working at an Internet startup during the first dotcom boom of the mid-1990s. Although this had little to do with medieval history, it had everything to do with the interaction between technology and society. My dual background allowed me to become a member of the marketing staff who nevertheless spoke the language of technology and could act as a translator between people in separate areas of the company.
I continued to apply these skills after I left the dotcom for a large financial corporation, helping them launch a number of online initiatives that forced the firm to rethink what it meant to have a relationship with a customer in an era of technology.
In a volunteer role there, I was also the first leader of the firm's lesbian, gay, bisexual, and transgender (LGBT) employee network. It became a place of support and community for LGBT employees, and was also the first of the firm's many diversity networks to take significant steps towards supporting the firm's financial advisors in serving and attracting LGBT clients. I began making connections with LGBT advocates and organizations.
When I made the decision to stay home for some time with my new son, I knew I wanted to keep my professional neurons firing, but to do so in a way that also drew on my growing dedication to social justice. When he was two, I therefore launched Mombian, a blog for LGBT parents, and began a syndicated Mombian newspaper column two years after that. This also led to a variety of news reporting on other LGBT topics, including safe schools, education, and media representation. Through this work, I learned of the Welcoming Schools initiative of which SEED Co-director Emmy Howe was a founder.
Several years later, when I began looking again for outside employment, the opening at SEED seemed ideal. A job based at my beloved alma mater, working for a social justice project that impacts schools and education, and doing the type of technology-related content and marketing work that I had done for years? SEED brings it all together — and gives me tools to continue reflecting on what it means to blur boundaries and value diverse ways of knowing and learning.