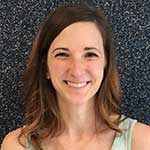 I was in first grade when I became the kid with a flagrant disregard for bedtime. You know the type: sheets tented around the head, flashlight clutched in hand to illuminate the pages. If discovered, I would beg my parents to let me read just one more chapter. I was hooked on books.
Within the pages of the books I read, I was able to venture beyond the borders of my rural Wisconsin hometown to innumerable worlds. I found mirrors of myself -- characters who were white, middle-class, and cishet -- in many of the stories that I read, but I also found windows into others' experiences.
Eventually, my love for stories lead me to the University of Wisconsin-Madison to study secondary English education. Here, I learned to question the stories which I consumed: what stories were being told? Who were the heroes? Who had the privilege of being the storyteller? And above all, whose stories were missing?
I have carried these critical questions about stories into my work in the classroom, first at a charter school in the city of Chicago, and now in my current position in District 99. Whereas I spent the early years of my life within a relatively homogeneous community, the exact opposite can be said of my years as a teacher in the Chicagoland area. In my classroom, I have tried to create a space where students from all walks of life feel safe to develop their intellectual curiosity as well as explore their developing sense of self. In addition to teaching various English courses, I have helped students find their voice on the student FM radio station WDGC 88.3 FM. I am also a teacher in the AVID (Advancement Via Individual Determination) program, where I serve as a mentor and coach for students during all four years of high school; many of these students will be the first in their family to attend college.
In the winter of 2014, I earned an M.S. from the University of Illinois at Chicago in Educational Policy: Instructional Leadership with a focus on social justice issues in education. Shortly after completing my degree, my district invited me to attend SEED New Leaders Week. SEED's focus on storytelling resonated deeply with me, as I witnessed anew the transformative power of that storytelling for both teller and listener.
I currently co-facilitate yearlong SEED sessions in my district. My work as a SEED facilitator has continued to push me to ask critical questions about stories, but this time the stories that I tell about myself and my role in the world. I am learning to unsee myself as the hero in my own stories.
SEED work is humbling. SEED work is never-ending. SEED calls us to work for a more just world, while also gently urging us to recognize that this work often begins within the self.