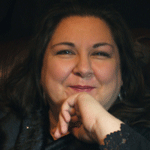 Diversity, multi culturality, intersections in human relations—whatever you want to call it, has been a lifelong passion for me, because it is my lived experience. I was born half White and half Indigenous, so my adventure in this kind of learning started from day one. The kinds of messages about "who I am supposed to be" and "how I am supposed to fit in" were constant and somewhat confusing. I was taught by my parents to be proud of my heritage, but mainstream messages did not support that idea.
It was at Winona State University that I learned and applied a newly discovered vocabulary. It was steeped in critical race theory, social justice and multicultural education. Then I applied it to my personal experience. The new words empowered me to turn negative stereotypes and prejudicial biases (and how I perceived myself) into something positive. I finally had the words to describe what I experienced! I turned perceived negative messages of self-deprecation into more positive messages of self-acceptance and acceptance of others. This increased my desire to improve inclusion and extending that to all who wanted to participate in this journey.
Working for Ho-Chunk Nation, I learned a lot about systems marginalization and struck out to help my people whatever ways I could. I served during several presidential administrations in our government. I learned a lot more about Ho-Chunk customs and tradition.
Then I was called to UW-Eau Claire to teach about what I had learned. There, they honored me with Knight Journalism in Residence position, the Faculty-Mentor Award in Service Learning, and UWEC's Woman of Color in Education Award. During that time frame, I also achieved my master's degree. The Josephine P. WhiteEagle Fellowship was what allowed me to attain my master's degree, so I was happy to oblige coming back to the tribe and serving as I could. When not serving there, I was teaching as adjunct faculty in Communication/ Journalism, Women's Studies and American Indian Studies.
In 2011, I attended the National SEED New Leaders' Week. I was previously familiar with Peggy McIntosh's work and had referenced her writings in various speeches and courses, so I was excited to attend. Despite all of the background I had in this field, the Leader's Week was still transformative for me because I had the rare opportunity to be among colleagues of like interests, background and experience discussing ideas that matter to me—especially the connection between the head and the heart.
Facilitating local groups and enjoying participant contributions inspire, challenge, and deepen my belief in the collaborative process and the rejuvenation that occurs when sharing our stories. SEED reminds me to listen more, to include everyone's voice, and to trust the process of exchange and exploration. The more I learn, and live, the more I find SEED at the center of who I am and what I do.