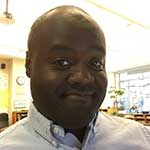 I am a SEED facilitator who had never attended a SEED meeting before New Leaders Week in 2015.
I am an East Coast native still learning how to survive winters in Chicago.
I am stories told around the dinner table of how "sometimes you have to work twice as hard to get just as far."
I am a black kid who grew up upper middle class in the suburbs of Maryland.
I am waking up to the first bars of Prince's "Purple Rain" album on Sunday mornings.
I am an educator who found SEED through colleagues who were doing the kind of dynamic work around equity in schools that I wanted to do myself.
I am a kindergarten teacher who feels privileged to work with people who still believe in magic.
I am a proud graduate of both Howard University, where I earned my B.A in Human Development, and Tufts University, where I completed my M.A.T. in Child Development.
I am a lover of elephants and tattoos and elephant tattoos and useless pop culture trivia.
I am Star Trek and science fiction and looking up at the stars on clear, summer nights.
I am joining the National SEED staff in 2017 eager to continue my own journey of reflection and anti-bias practice, while supporting other changemakers on their respective journeys.