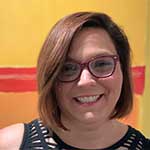 I was born into a white, heteronormative, lower-middle class family in the suburbs of Philadelphia, Pennsylvania. After college in New Jersey, I moved to Baltimore, Maryland and in 1999 settled in the D.C. metropolitan area. I presently live in downtown Silver Spring, Maryland. Today, I identify as a white, bi/pansexual, upper-middleclass, middle-aged, womanist, mother. In addition to mothering and activism, I practice health care law for a large law firm in D.C.
My path to SEED and SEED-work is interwoven with my journey to motherhood--both have transformed my life. With motherhood came ferocious love for my child and for the world around him, a feeling at once deeply personal and universal among all parents. As I watched the world navigate my white baby boy (and later watched him navigate the world), it was painfully clear to me that the entire social system was designed to catch, hold and elevate my son and to allow other mother's children to suffer and slip through. The embodiment of this injustice in my son and the children of my friends and neighbors wounded my soul and compelled me to action. No longer able to assuage my conscience with "tsks" and headshaking at cocktail parties, I rolled up my sleeves, started digging into local movements, deepening relationships at all levels, showing up and donating time, skills and money toward advancing justice for all.
When my son was in kindergarten, his principal asked me to co-found the school's first Diversity, Equity and Inclusion Committee and to become trained in SEED so that I could lead SEED seminars for parents in our school community. A year later, I attended SEED New Leaders Week and my relationship to anti-oppression work deepened and became an integral part of my life and my identity. Since that time, I led two parent SEED groups for the school--one solo and one with a partner for half the time. I then worked with some other local activists and SEED-folk to take SEED into the D.C.-metropolitan community, leveraging SEED tools to create and offer workshops on topics such as white privilege, transphobia and gentrification. The most heavily attended workshops we offered were after the 2016 elections when we focused on skills and tools for dealing with hatred and racism in your family and friends. Literally hundreds of white people signed up and attended these four-hour-long workshops, hungry for real conversations, tools, and camaraderie in the hard work of naming, confronting and (if we are lucky) dismantling the systems of oppression that surround us. The interest in these workshops led to our first SEED community offering in Takoma Park, Maryland, which included community members ranging from the mayor to new residents of the town. We hope to offer other community-based SEED sessions throughout the D.C. Metro area soon.
In 2018, I was honored to join National SEED staff and to work with the incredibly talented, generous, brilliant and skilled people who annually midwife and nurture SEED leaders across the United States and the world. It is my privilege to be a SEED staff member and to learn, grow, create and transform with our SEED new leaders.