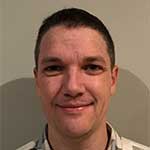 I was born in a suburb thirty miles north of Chicago, before my parents separated and my mother moved my brother and I with her into an apartment on the north side of Chicago. Being raised in a White Jewish family, my mother insisted on enrolling her two sons in a private Jewish day school until she remarried and we moved to Northfield, a small predominantly White suburb just north of Chicago. After graduating from high school in 1996, I went to New Orleans to attend Tulane University and graduated with a BS in biochemistry in 2000.
It was in these years in New Orleans that I started my journey of examining how being White had impacted my life, for up until this point, being White was something never talked about in my social circles. I was introduced the People's Institute for Survival and Beyond, where I attended an Undoing Racism workshop and returned to Tulane to support the creation a new club, Students Organizing Against Racism. From 2001-2005 I taught at Cabrini High School, a Catholic school in New Orleans, and was a faculty advisor for Cabrini Organizing for Racial Equality.
In 2010 I moved back to Chicago to work at an independent school, Latin School of Chicago, and attended my first SEED group during the 2012-2013 school year. During these sessions I grew to see a fuller sense of self by reflecting on my many intersectional identities on how my experiences through my multiple identities shaped my life as a cisgender, heterosexual, upper class White man. At the end of this school year, two SEED leaders at my school recommended that I attend SEED New Leaders Week in the summer of 2013. I returned to become a SEED leader for both a faculty SEED group and a student SEED group at my school. Since then I became a faculty advisor to the Student Diversity and Equity Committee, integrated an anti-bias social justice curriculum in the physics classroom, and taught a class to ninth graders on identity development. In the summer of 2016 I joined the National SEED Project team as a staff member for New Leaders Week. I have also worked with SEED through the school year, facilitating sessions at the White Privilege Conference, where I have also facilitated White caucus groups since 2017.
I am incredibly grateful to everyone I have worked with at SEED. I am also grateful to the Chicagoland Regional SEED Group whose presence is inspiring. And thank you to my loving partner Gail Henry and son Benjamin whose support has made it possible for me to grow as a SEED leader.