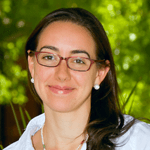 How did I get here? A Step-By-Step Guide:
Step 1: Trouble in Paradise
I grew up in San Francisco, California. My parents, former flower children, wanted to invest in the best education they could, so they sent me to independent school. I liked learning, but there were some things that concerned me about school. I remember overhearing my mom say she didn't feel accepted by the moms who stayed at home because she worked full time and didn't participate in all school events. In middle school I wondered what it meant that most of my classmates were white, like me, but I didn't know how to ask these questions.
Step 2: Getting My Knapsack for the Journey
In high school, I attended another independent school, with a similar demographic. However, now there was a director of multi-cultural affairs, and he led a student discussion group about race--finally, a place to learn about what I had been observing and wondering. Some weeks we had a white affinity group, where we read Peggy McIntosh's "White Privilege: Unpacking the Invisible Knapsack." The ideas in this paper helped me start to understand how oppression operated around me (even in liberal San Francisco!).
Step 3: Creating Creative Curriculum
The following summer I was introduced to teaching through the Summerbridge program, whose motto was: Students Teaching Students. The model was to bring public middle school students to our high school to take enrichment classes taught by high school and college students—on topics ranging from animal dissection to Civil Rights movement history. Demographically, we turned our high school campus inside out, and we made it cool to be nerdy. It was a new vision of how teaching could be fun and meaningful.
Step 4: Stop and Smell the Stories:
I went to college looking forward to learning the foundational skills for a career. When I realized that Harvard didn't offer courses in such practical topics as teaching, I had to radically refocus. I went looking for stories that I had never heard--understanding history beyond textbooks. My favorite classes focused on colonization, post-colonialism and the literature of native writers in the Americas. The most meaningful part of the college experience was the opportunity to get to know to Briceida Cuevas Cob, a Mayan poet whose bilingual poetry became the topic of my senior thesis.
Step 5: Sit in the Circle
After college I took a job as a teaching assistant in a kindergarten class at a public charter school in New York City. Witnessing five-year-olds learn to read and write was a magical experience, reigniting the flame that Summerbridge had sparked years earlier. I decided to pursue teaching as a career. Six years later, after getting a masters' degree and a certification in general education and special education, SEED is taking me on the next leg of my journey, deepening my practice as a teacher, a student and a community member. I look forward to seeing what grows next!