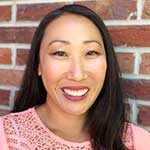 I am currently the director of diversity, equity, and inclusion for TNTP, a non-profit educational organization. My path to getting to TNTP and to New Leaders Week in 2016 was not a straightforward one. It has been a journey of slowly regaining my identity after years of giving it up and attempts at assimilation. It has been a journey of realizing that as an Asian American woman, I have had to prove that I belong in this country, although I was born in the United States.
SEED gives me hope that through our own understanding of our identities, we can ensure that each and every person is met with respect and honor. What is taken from our students each day as they walk into our current educational system? I need and deserve every part of me and our kids and educators of color need and deserve every part of them. Our educational system, our country, our society, needs every part of us too. When every aspect of a person is accepted and honored, then and only then, will our educational system serve justly and equitably.
For me, my first act of resistance was reclaiming my name. My name is UnSuk, not Sue, not U-suck, not UnSuck, it's UnSuk and this is why I do this work. Will you stand with me in confronting and standing against the current system in order to gain racial justice and healing?