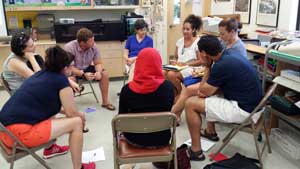 Applications are now closed for the 2018 SEED New Leaders Week. If you are interested in attending in 2019 and running SEED seminars in the 2019-20 academic year, please let us know and we will notify you by e-mail when our applications are available this fall.
The information below is for the 2018 SEED New Leaders Week. We are leaving it up for reference, but details may change before we open up applications for the 2019 SEED New Leaders Week.
---
We're glad you've decided to apply for SEED New Leaders Week and the 2018-19 SEED Project Year! Please read this page carefully before you begin your application.
The application has two required sections and one optional section:
Part 1: New Leaders Application: Applicant completes at the link below.
Part 2: Administrative Support Form: Administrator completes on behalf of applicant. The administrator you name in your application will be sent an e-mail link to do this once you have completed the New Leaders Application.
Part 3: Optional Scholarship Section: If you are seeking a scholarship, the administrator must complete the scholarship section at the end of the Administrative Support Form. (See criteria/details about scholarships below.)
Frequently Asked Questions

Refunds, Switching Participants, Deferrals
Parts 1 and 2 must be submitted for application to be considered complete. SEED will not review until Parts 1 and 2 are submitted.
To begin, please complete all pages of the form at the link below. When you click "Submit" at the end, the system will send an e-mail to your chosen administrator and request that they complete their parts of the application, the Administrative Support Form and (optionally) the Scholarship Section. Note that your answers are not shared with each other.
You will not be able to save your application partway through and return to it. If you wish to compose your essay answers in advance, perhaps spending several periods of time on them, you may download this Word doc, type in your answers at your leisure, and then copy and paste your answers into the online application form. Please do not submit the Word doc to SEED; it is for your drafting purposes only, should you wish to use it.
We will review and accept applications on a rolling basis with the following review dates:
December 15, 2017
January 15, 2018
February 14, 2018
February 28, 2018
March 15, 2018 and then on a weekly basis until our April 30 deadline.
You will hear from us approximately two weeks after the review date following submission of both your application and your Administrative Support Form.
Final application due date is April 30, 2018. Last year, we filled all spaces before the deadline, so we encourage you to submit all materials well in advance of that date.
Should you be accepted, you would be expected to attend one of three similarly structured SEED New Leaders Weeks. Your application indicates the location and date of the week you want to attend:
June 27- July 3: Marin County, CA
July 14-20: Seattle, WA
August 1-7: Eastern MA
You will also design, coordinate, and facilitate a year-long, monthly SEED seminar in your school, district, or organization with 15-25 of your colleagues during at least one school year. SEED New Leaders Week prepares you for the leadership of this seminar.
Costs:
The costs for SEED participation are:
$4,500 per seminar leader, excluding travel and including room and board and all supplies during New Leaders Week. Applicant spaces will not be reserved until all application and support forms are accepted and approved by SEED and a $1000 deposit is submitted to SEED for each accepted applicant. The entirety of the payment can be made then, or else the second portion of the payment is due four weeks following the end of the applicant's/applicants' New Leaders Week. (Please note that you may apply to SEED for up to $3,500 in scholarship toward these costs.) This $4,500 SEED fee covers:

Tuition, room (double occupancy), meals, and all materials while leader is at New Leaders Week
A year-long professional development opportunity for 15-25 local colleagues at your institution or organization, led by your newly trained SEED leader
Ongoing assistance from SEED co-directors, SEED staff, and other experienced SEED leaders as new​ on-site​ leader provides this SEED seminar
Access to SEED leaders-only resources and online community
Print and digital media resources for adults and youth
Regional networks for SEED leaders

A limited number of single rooms are available for an additional $500 and will be offered based on participant need.
Schools and sponsoring sites are asked to provide an additional $500 per seminar for books, handouts, materials, and food, to be provided directly to the seminar leader(s) (not to SEED) and handled locally.

SEED expects institutions and organizations to support the year-long SEED seminar and seminar leader(s), through strong verbal endorsement from administration, and through material support, such as funds to purchase books and DVDs for the seminar (which can start an equity library onsite), access to copy machines and printers, time during all-faculty/all-staff meetings for SEED, and backing to ensure seminars have a regular meeting place and nourishing food.

Travel costs to/from New Leaders Week, including but not limited to airfare, ground transportation, meals while traveling, and baggage fees. These are not covered by SEED.
If you have any questions, please do not hesitate to contact us at info@nationalseedproject.org.
If you are seeking a scholarship:
SEED provides a limited number of scholarships to eligible institutions and nonprofit organizations. The scholarship portion of the Administrative Support Form must be completed by a school principal/head or organizational administrator authorized to approve and receive funding and to support all aspects of the SEED seminar, including finances, logistics, and promotion of equitable education in the institution. We must receive the scholarship portion and the full Administrative Support Form from the administrator, as well as a completed New Leaders Application from each person who wishes to become a SEED leader.
The basic criteria for scholarships are:
Applicants must be early childhood education centers, K-12 schools, higher education institutions, or nonprofit organizations.
Scholarships will be awarded based on demonstrated institutional financial need, and diversity in terms of marginalized populations.
The partner institution, organization or community's commitment to host a SEED seminar for at least two years following receipt of the scholarship.
The partner institution, organization, or community's commitment that if the SEED seminar does not occur, the partner will owe the total amount of the scholarship to the National SEED Project.
We anticipate that scholarships will range from $500 to $3,500.