SEED New Leaders Week is a seven-day, peer-led, residential workshop at which 50 to 60 educators, parents, community leaders, and other professionals are immersed in multicultural SEED materials and methods in preparation for leading SEED seminars in schools, workplaces, and communities where they are employees or members, in order to create momentum towards social justice.
During the week, participants:
meet with other new SEED leaders from public and private schools, colleges, and communities;
work daily in small groups with SEED's multi-ethnic staff of experienced educators;
engage in various interactive exercises and conversations to connect their own personal experiences of diversity, oppression, and privilege with an understanding of the systemic nature of privilege and oppression;
see how putting people at the center of their own professional development can more effectively nurture the growth and development of young people, community members, and colleagues.
learn how to create and facilitate local SEED seminars that similarly engage their own colleagues and community members, preparing them to create more gender fair, multiculturally equitable, socioeconomically aware, and globally informed schools, communities, and workplaces.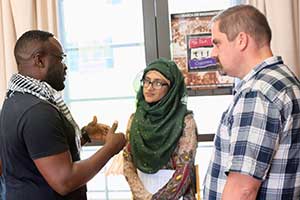 SEED leaders from various disciplines, grade levels, and diverse ethnic, cultural, and class backgrounds staff the Week, along with National SEED Project co-directors.
Staff share key SEED concepts along with materials and strategies to facilitate social change, such as McIntosh's theoretical work on interactive phases of curricular re-vision and on systems of privilege. Attendees also read and discuss recent interdisciplinary scholarship that calls into question traditional content and practices in schools. SEED encourages participants to speak as individuals about their actual experience of teaching, learning, and work.
Experienced leaders mentor new ones on how to do this "deeply personal group work" in local seminars back in their own schools, workplaces, and communities. This process is designed to be supportive, respectful, challenging, interesting, growth inducing, and often transformative.
Those connected to the SEED network testify that as a result of their SEED experience, they listen to all voices, including their own, with widened attention. SEED participants are able to embrace with more confidence and competence the challenges and joys of the many kinds of diversity found in their own lives and in the lives of others.
Please see our Application page for details of expectations and costs.
Applications for New Leaders Week and SEED 2019-20 are now closed. If you are interested in applying to attend New Leaders Week in 2020 and holding SEED seminars for your organization, institution, or community in 2020-21, please contact info@nationalseedproject.org and we will inform you when those applications open in the fall of 2019.