SEED New Leaders Week is a seven-day, peer-led, residential workshop at which 50 to 60 educators, parents, community leaders, and other professionals are immersed in multicultural SEED materials and methods in preparation for leading SEED seminars in their own schools, workplaces, and communities.
During the week, participants:
meet with other new SEED leaders from public and private schools, colleges, and communities;
work daily in small groups with SEED's multi-ethnic staff of experienced educators;
engage in various interactive exercises and conversations to connect their own personal experiences of diversity, oppression, and privilege with an understanding of the systemic nature of privilege and oppression;
see how putting people at the center of their own professional development can more effectively nurture the growth and development of young people, community members, and colleagues.
learn how to create and facilitate local SEED seminars that similarly engage their own colleagues and community members, preparing them to create more gender fair, multiculturally equitable, socioeconomically aware, and globally informed schools, communities, and workplaces.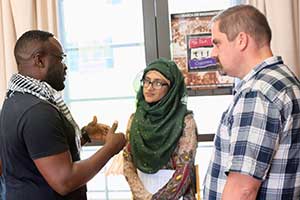 SEED leaders from various disciplines, grade levels, and diverse ethnic, cultural, and class backgrounds staff the Week, along with National SEED Project co-directors. Also joining them is SEED Founder Dr. Peggy McIntosh.
Staff share key SEED concepts along with materials and strategies to facilitate social change, such as McIntosh's theoretical work on interactive phases of curricular re-vision and on systems of privilege. Attendees also read and discuss recent interdisciplinary scholarship that calls into question traditional content and practices in schools. SEED encourages participants to speak as individuals about their actual experience of teaching, learning, and work.
Experienced leaders mentor new ones on how to do this "deeply personal group work" in local seminars back in their own schools, workplaces, and communities. This process is designed to be supportive, respectful, challenging, interesting, growth inducing, and often transformative.
Those connected to the SEED network testify that as a result of their SEED experience, they listen to all voices, including their own, with widened attention. SEED participants are able to embrace with more confidence and competence the challenges and joys of the many kinds of diversity found in their own lives and in the lives of others.
Expectations
Should you be accepted, you would be expected to attend one of three similarly structured SEED New Leaders Weeks. Your application indicates the location and date of the week you want to attend.
You will also design, coordinate, and facilitate a year-long, monthly SEED seminar in your school, district, or organization with 15-25 of your colleagues during at least one school year. SEED New Leaders Week prepares you for the leadership of this seminar.

Costs
The costs for SEED participation are:
$4,500 per seminar leader, excluding travel and including room and board and all supplies during New Leaders Week. Applicant spaces will not be reserved until all application and support forms are accepted and approved by SEED and a $1000 deposit is received by SEED for each accepted applicant. The entirety of the payment can be made then, or else the second portion of the payment is due four weeks following the end of the applicant's/applicants' New Leaders Week training. (Please note that you may apply to SEED for up to $3,500 in scholarship to apply towards these costs.) This $4,500 SEED fee covers:

Tuition, room (double occupancy), meals, and all materials while leader is at New Leaders Week
A year-long professional development opportunity for 15-25 local colleagues at your institution or organization, led by your newly trained SEED leader
Ongoing assistance from SEED co-directors, SEED staff, and other experienced SEED leaders as new​ on-site​ leader provides this SEED seminar
Access to SEED leaders-only resources and online community
Print and digital media resources for adults and youth
Regional networks for SEED leaders

A limited number of single rooms are available for an additional $500 and will be offered based on participant need.
Institutions and organizations must also provide an additional $500 per seminar for books, handouts, materials, and food, to be provided directly to the seminar leader(s) (not to SEED) and handled locally.

SEED expects institutions and organizations to support the year-long SEED seminar and seminar leader(s), through verbal endorsement from administration, and through material support, such as funds to purchase books and DVDs for the seminar (which can start an equity library onsite), access to copy machines and printers, time during all-faculty/all-staff meetings for SEED, and backing to ensure seminars have a regular meeting place and nourishing food.

Travel costs to/from New Leaders Week, including but not limited to airfare, ground transportation, meals while traveling, and baggage fees are not covered by SEED.
If you are seeking a scholarship:
SEED provides a limited number of scholarship to eligible institutions and nonprofit organizations. The scholarship portion of the Administrative Support Form must be completed by a school principal/head or organizational administrator authorized to approve and receive funding and to support all aspects of the SEED seminar, including finances, logistics, and promotion of equitable education in the institution. We must receive the scholarship portion and the full Administrative Support Form from the administrator, as well as a completed New Leaders Week Application from each person who wishes to become a SEED leader.
The basic criteria for scholarships are:
Applicants must be early childhood education centers, K-12 schools, higher education institutions, or nonprofit organizations.
Scholarships will be awarded based on demonstrated institutional financial need and diversity in terms of marginalized populations.
The partner institution, organization or community's commitment to host a SEED seminar for at least two years following receipt of the scholarship.
The partner institution, organization, or community's commitment that if the SEED seminar does not occur, the partner will owe the total amount of the scholarship to the National SEED Project.
No scholarships larger than $3,500 will be made.