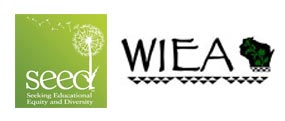 The Wisconsin Indian Education Association and the National SEED Project developed a partnership to create the first Wisconsin SEED Institute. The Institute engaged 25 Wisconsin educators and citizens in facilitating ongoing, structured, group conversations in which all voices can be heard; examining how their own stories relate to social systems; learning from the lessons of their own lives as well as from texts; and turning oppression and privilege into agency and action. Participants completed their week with a plan in hand to go home and start their work of making communities more gender fair, multiculturally equitable, socioeconomically aware, and globally informed.
Date: June 14-19, 2015
Place: Green Lake Conference Center, Green Lake, WI
Staff at the Wisconsin SEED Institute included:
If you are interested in future SEED events, either in Wisconsin or at the National SEED New Leaders Week, please contact us for further information.
The Wisconsin Indian Education Association exists to promote and support education and educationally related opportunities for American Indian people in Wisconsin. It provides education to First Nations Wisconsin communities on issues affecting American Indian education; advocacy on issues concerning American Indian students and access to education; merit-based scholarships; networking among those involved in American Indian education; increasing awareness about the 1989 Wisconsin Act 31 law that requires public school districts in Wisconsin to teach about Wisconsin Indian history, treaties and tribal sovereignty in grades 4, 8, and 10; houses the primary efforts for the Mascot-Logo Task Force, and support for Wisconsin Assembly Bill 35 which provides that a school district resident may object to a school board's use of a race-based name, nickname, logo or mascot that promotes discrimination, pupil harassment or stereotyping.