20 Questions for Peggy McIntosh: Question 8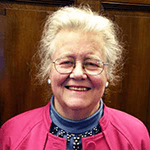 This week, in our series of 20 questions that SEED Founder Peggy McIntosh answered about SEED for the Wellesley Centers for Women's Research & Action Report, she talks about how the SEED method of serial testimony can help teachers better see their frames of knowledge.
(For more on serial testimony, see also the essays "Serial Testimony as a Tool for Discussing Sensitive Racial Topics" and "Joining the SEED Circle.")
How do teachers come to see their frames of knowledge?
Well, the first thing is to speak just as an individual about one's actual experience of teaching — to speak, for example, with reference to the last assignment one gave, or the most recent test one gave, or the first three writers on a reading list and why they were chosen. And in SEED we use a process called Serial Testimony in which members of a seminar sit in a circle or around tables facing each other and speak briefly, timed, for a minute or perhaps two minutes, on a given question. When you speak for just a fragment of time and listen to others the rest of the time, a kind of database begins to form within the room and teachers literally see what they have been doing more clearly than before. Many end up asking what made them settle for a version of a curriculum that leaves out their daily knowledge base and leaves out their students.
Comments
No comments made yet. Be the first to submit a comment