Applications Still Being Accepted for Wisconsin SEED Institute in June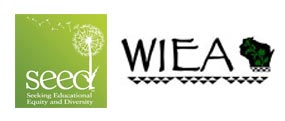 Educators, parents, and community leaders in Wisconsin are invited to apply now for the Wisconsin SEED Institute, June 14-19. This professional development program is the result of a partnership between the Wisconsin Indian Education Association and the National SEED Project.
The Institute will engage 25 Wisconsin educators and citizens in facilitating ongoing, structured, group conversations in which all voices can be heard; examining how their own stories relate to social systems; learning from the lessons of their own lives as well as from texts; and turning oppression and privilege into agency and action. Participants will complete their week with a plan in hand to go home and start their work of making communities more gender fair, multiculturally equitable, socioeconomically aware, and globally informed.
If you do not live in Wisconsin, but would like to attend the Wisconsin SEED Institute, or if you are interested in the National SEED New Leaders' Week, please contact us for further information.
Comments
No comments made yet. Be the first to submit a comment