Dismantling the Box of Ableism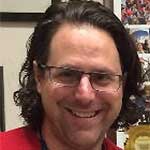 By Daniel Cohen
English Teacher, Oak Park and River Forest High School;
SEED Leader
As a SEED facilitator for the past 15 years, I've designed dozens of monthly seminar sessions to help participants further their self-understanding, their analyses of social systems, and their commitment to enacting justice and equity. One topic I have taken up in these sessions is Ableism, where I use the work of Riva Lehrer, including the picture of Eli Clare here.
Prior to the White Privilege Conference this April, I have only known Eli Clare through this painting. Riva Lehrer's art is best known for "representations of people with impairments, and those whose sexuality or gender identity have long been stigmatized." For myself and most of my SEED seminar participants, these paintings are the first time we've experienced art with people with impairments and "socially challenged bodies." While I studied the artist, I never studied the subjects. I was not curious about their lives and their identities. To be honest I used their bodies as curriculum, as windows and mirrors.
So when Eli Clare walked to the stage and presented the first keynote in front over 1600 people at the White Privilege Conference, I knew he looked familiar, but I struggled to place Eli in my own learning. For me, Eli was still only a picture, a piece of curriculum and not a White, disabled, genderqueer writer, author, poet, teacher, facilitator, activist, organizer, hiker, camper, fun adventurer, etc. I had put Eli in a box and therefore put my own imagination in a box; a box that suited my needs as a well-intentioned SEED leader.
Eli's keynote dismantled the box. His presentation centered on the following quote, "To end white supremacy, we must dismantle the ableist notion of defectiveness." He challenged my concepts of access and my understanding of the word defective while he linked the long history of that word with white supremacy. Eli discussed how "intersectional analysis allows us to see how all oppression grows from the same dominant power structure of cisgender -- able bodied -- white supremacist -- capitalist -- heteropatriarchy that bell hooks first articulated for us."
As I experienced Eli's presentation, I repeated the word "defective" over and over in my head. Defective led to deformed which led to not normal and ultimately to my notions of what is normal. As a White cisgender, able-bodied, heterosexual man I was always normal. My identity was always reflected back at me by every institution I was a part of. My schools, my government, the media all looked like me, listened to me, believed me and served and protected me. Yet growing up I was in no way taught to see my normalness or ask questions about who was or was not normal. But the messages were loud and clear; I knew who was not normal. People of color were not normal, LGBTQ+ folks were not normal, immigrants were not normal, people with impaired bodies were not normal, etc. In other words, they were defective, broken, fractured, etc.
As with each participant in my SEED seminars, my unlearning and learning are ongoing. As a White, male able-bodied educator, my commitment is to study and interrupt my own biases and assumptions in order to to support and challenge all of my students. As a White male, able-bodied SEED leader. my commitment is to model honesty and vulnerability while challenging my colleagues to see and dismantle systems of oppression. I'm not drowning myself with shame, blame, or guilt, but rather taking responsibility for my own growth and the justice that members of the disabled community are calling for.
Comments
No comments made yet. Be the first to submit a comment