Join SEED at NAME Conference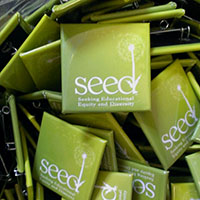 Going to the National Association for Multicultural Education (NAME) Annual Conference November 5 to 9 in Tucson, Arizona? Join several SEED directors and staff at their workshop on "Windows and Mirrors"!
SEED Co-director Emmy Howe, Associate Directors Gail Cruise-Roberson and Jondou Chase Chen, and Summer Staff Member Victor Rios will be doing a workshop Friday, November 7, at 4 p.m., around a concept first developed by Co-director Emily Style in her 1988 paper "Curriculum as Window and Mirror."
Style wrote:
All students deserve a curriculum which mirrors their own experience back to them, upon occasion — thus validating it in the public world of the school. But curriculum must also insist upon the fresh air of windows into the experience of others — who also need and deserve the public validation of the school curriculum.
What does it take to make this happen? How can teachers, parents, and administrators use their own experiences with windows and mirrors to learn how to offer them to their students? Join us and find out — or if you've been part of a SEED seminar before at your school, come and reconnect with these ideas (and maybe with some SEED friends). Summer Staff Members Bob Gordon and Steve Kraynak will also be there, staffing the SEED exhibit table. We hope you'll stop by!
Comments
No comments made yet. Be the first to submit a comment