Join SEED at the People of Color Conference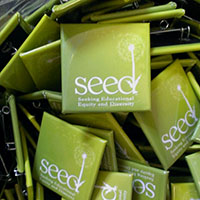 Going to the National Association of Independent Schools People of Color Conference, December 3 to 5 in Tampa, Florida? Please join SEED Co-director Gail Cruise-Roberson and SEED Staff Member Patricia Matos of Greenwich Country Day School for a session on "Using Art to Tell Stories as a Source of Learning and Healing," and meet SEED leaders and friends for a social gathering.
The "Using Art to Tell Stories" session will be Friday, December 4, 9:45 a.m. to 11 a.m., in Meeting Room 13. Here's what Gail and Patricia have to say about it:
Telling stories about ourselves can be both a teaching tool and healing strategy. Shared stories highlight common experiences, show ways we see the world, and build understanding among people. Stories can also demonstrate inequity and lead toward justice seeking. We will explore two specific ways to tell stories, using the artwork of two artists of color: Jacob Lawrence and Carmen Lomas Garza. Their portrayal of stories of their respective communities will help to prompt participants to share their own stories. Structured dialogue together with storytelling will illuminate how stories reveal shared experiences as well as how social dynamics can lead to different outcomes for people.
The informal social gathering will be on Friday, December 4, from 7:30-8:30 p.m. at Thai Thani, a restaurant within walking distance of the conference. (Click for map.) Come hear what other SEED leaders have been up to, share your own stories, and learn about some of the exciting things happening this year with SEED. If you need to connect before the gathering, please e-mail Gail or visit the private SEED Leaders' Facebook Group for her phone number.
We hope to see many of you there!
Comments
No comments made yet. Be the first to submit a comment