Meet SEED Directors and Staff at NAME Conference Next Week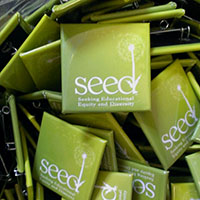 Going to the National Association for Multicultural Education (NAME) Conference in Oakland, California, November 6-10? Catch SEED Founder Peggy McIntosh, Co-director Emily Style, Associate Director Gail Cruise-Roberson, and Summer Staff Member Donald Burroughs at an Intensive Institute on "Five Interactive Phases of Curricular and Personal Re-Vision With Regard to Gender and Race," November 7 from 4:30 to 6:50 p.m.
Here's what to expect:
This NAME Institute is led by Peggy McIntosh, Founder of the National SEED Project on Inclusive Curriculum and author of White Privilege: Unpacking the Invisible Knapsack. It will demonstrate teaching methods that come out of and are validated by her Five Interactive Phases of Curricular and Personal Re-Vision. Since its first appearance in 1983, McIntosh's Phase Theory has inspired many changes in curricular content, teaching methods, and school climates in schools and universities in the United States and around the world. McIntosh will outline Phase Theory, and then she and SEED staff members will demonstrate interactive exercises that include all PreK-12 students and that have the power to transform teachers themselves. The Phases range from the most exclusive to the most inclusive frames of mind and heart. The laterally-oriented exercises and teaching methods that will be demonstrated lessen privilege in the classroom, engage students, and increase their interest in being in school, knowing that they belong regardless of their backgrounds.
Please also make sure to stop by the SEED exhibitors' table, staffed by longtime SEED Leaders Judy Logan and Marcia Lovelace. There will be SEED bookmarks and buttons — and of course, the chance for SEEDy conversations.
Comment for this post has been locked by admin.