ReSEED 4 for Trained SEED Leaders: Apply Now!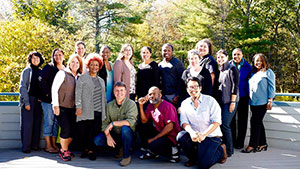 We're excited to announce that the next ReSEED, for previously trained SEED leaders, will be January 14-16, 2017, in conjunction with Dr. Martin Luther King, Jr.'s birthday. The MLK weekend has traditionally been a time when SEED staff gathered to build community and begin the planning for New Leaders Week. ReSEED 4 has a theme in keeping with Dr. King's writing: Where do we go from here?
This coming year (and new administration) presents a very important time for SEED leaders to regroup and think about how they will continue to do equity work and stay safe. If you have completed a year of facilitating a SEED seminar, we invite you to consider joining us at ReSEED to revisit, renew, recharge, and recommit to working for a more just community.
We will host this event in the Washington, DC area. Tuition for ReSEED is $950.
Rolling admissions will start December 1, and we recommend that you apply sooner rather than later.
If you have any questions, please contact Gail Cruise-Roberson at 781-287-2837 or gcruiser@wellesley.edu.
Comments
No comments made yet. Be the first to submit a comment