See SEED at the NAIS Conference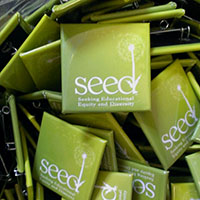 Going to the National Association of Independent Schools (NAIS) Annual Conference February 25-27? Make sure to stop by the SEED exhibit table and say hello to Co-Director Emily Style, Associate Director Gail Cruise-Roberson, and Staff Member Pat Badger. Learn more about what SEED is and what its impact has been within the independent school community, or say hello to old friends and find out what's new with SEED in its 29th year.
Date: February 25-27
Place: John B. Hynes Veterans Memorial Conference Center, Boston, Mass.
Table: 1012
We hope to see you there!
Comments
No comments made yet. Be the first to submit a comment