See SEED at the White Privilege Conference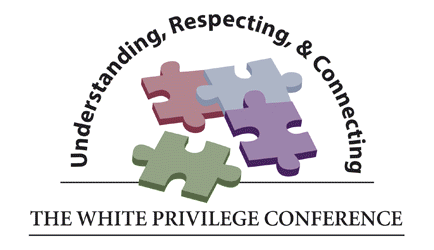 Going to the White Privilege Conference in Cedar Rapids, Iowa, this week? Several members of our lead team, staff, and other leaders will be there, along with our founder--running workshops, staffing our exhibit table, and hoping to see you!
Please stop by our table to say hello and learn more about SEED and our 2019 New Leaders Weeks or to catch up with us if you are already a part of SEED! We'll also be holding an informal gathering for SEED leaders and friends on Friday night. Contact Motoko Maegawa if you are interested so we can share the final details with you.
Here are the sessions SEED folks will be leading--please check the schedule at the conference to confirm times and locations:
Thursday, March 21, 2019 – Concurrent Workshop #1 (10:30 a.m. – 12:00 p.m.)
It's OK to be White?: The Necessary Journey to Interrupt White Supremacist Recruitment and Inspire Action
Presenters: Shelly Tochluk and SEED Staff Member Christine Saxman
Room 304
"It's OK to be White" flyers posted on campus. White supremacists recruiting in online video games. White supremacists infiltrating mainstream politics. What do we need to know about the recruitment tactics of supremacists (e.g. White Nationalists, the Alt-Right, the Light Right)? How do their appeals work? Anti-racist white people must know what to look for and how to share this information within their white communities in order to support the resilience and power needed to build positive, white anti-racist identities. This workshop will provide an overview of the various tactics employed by white supremacist groups and what makes them so effective. Participants will leave this workshop inspired to take on the struggle to learn more and take action in their communities.
Engaging in Anti-Racism as Asians/Asian Americans: My Story, Your Story, Our Stories
Presenters: Hsiao-Wen Lo and SEED Co-director Jondou Chase Chen
Room 316
Even now, in 2019, many see racism as a Black/White issue. Despite our increasing numbers, visibility, and influence overall, Asian and Asian American anti-racism activists seem fewer and far between. What is going on, and how does White Supremacy play a role in this dynamic? Hear the stories of two Asian Americans and share your own. Discuss the challenges and opportunities of showing up in anti-racism spaces as who we are. Connect with other like-minded folks and build coalitions across affinity and differences.
Thursday, March 21, 2019 – Concurrent Workshop #2 (1:00 – 2:30 p.m.)
Teaching While White: Where Whiteness Intersects with Antiracist Teaching and Learning
Presenters: SEED Leader Elizabeth Denevi and Jenna Chandler-Ward
Room 319
This session will examine how white teachers and students are addressing racial identity development, stereotypes, and antiracism on campuses across the country. Utilizing the voices of students, teachers, and administrators, Teaching While White focuses on the development of teaching practices that seek to dismantle systems that have led to deficit thinking and the supremacy of whiteness as what passes for "normal" in educational settings. We will share curricular examples, leadership practices, and effective professional development strategies.
Working White Privilege and Supremacy in Real Time: An Innovative Approach
Presenter: SEED Leader June Cara Christian
Room 316
Myth: If people learn how we are all the same, we can overcome white privilege and create safer, more inclusive environments. There are variations to this myth. Sometimes, diversity trainings focus on our differences in order to appeal to a common sense of decency and that white privilege and supremacy will be eradicated through people noticing and/or feeling bad about the systemic, social and cultural impacts on historically marginalized groups. Either thought does not fully address the complexity of biases, privilege or power--upon which people discriminate and act upon their prejudices. Diversity, equity and inclusion facilitators regularly begin trainings on white privilege and supremacy at the beginning with appropriate terminology, basic understandings of concepts like bias, discrimination and prejudice, the norms that should be in place to assure the safety of the training. However, if we are going to continue to interrogate and interrupt white privilege and supremacy for #20MooreYears, we must reenvision how we move the conversation and the work forward. This is an experiential workshop for participants who are looking for inspiration, authority and permission to do engage white privilege and supremacy in new ways. The ninety minutes spent in this workshop will be participant-centered, processoriented, interactive and unlike any workshop you've ever experienced. This workshop invites participants to disrupt white privilege and supremacy while reflecting on the experience in real time primarily using a large-group format.
Thursday, March 21, 2019 – Concurrent Workshop #3 (4:30 – 6:00 p.m.)
Black Girl Magic: Empowering White Moms and Educators
Presenter: SEED Leader Corrie Wallace
Parlor Ballroom
Mirror, mirror on the wall, who's the fairest of them all? This infamous children's rhyme is a testament to the deep rooted hierarchical system of oppression better known as racism that is an integral part of our everyday lives. Since we can't magically peel off our skin, the strong reactions it elicits as we walk through the world in this time of heightened racial visibility is essential to understand. Schools with growing diverse student populations remain staffed by predominantly white women. Politics with discriminatory rhetoric based on hate and a prison system that is fed from elementary school pipelines with disproportionate disciplinary data cannot be ignored. There are more and more white mothers out there raising kids of color. Whether carried and delivered from their wombs or adopted from extraordinary women in unique circumstances, these white women carry a huge responsibility - parenting and teaching children whose skin color is different than theirs. Therefore white adults who have close interaction with Black and Brown babies must understand that love is not enough. You're invited to explore the different messages we all receive based on the skin we're in and how that shapes our racial identity development and sense of self with Corrie, whose mother took her job as a white woman raising black children seriously. Learn strategies to help children develop a strong sense of self and valuing their intersecting identities while working towards eliminating oppression and understanding white supremacy.
Friday, March 22, 2019 – Concurrent Workshop #4 (10:00 a.m. – 11:30 a.m.)
There's no Hierarchy of Oppressions: A Mom's Reflections on Intersectionality
Presenter: SEED Leader Corrie Wallace
Room 519
"What a beautiful baby." "You gonna be a football player like your daddy?" "So...does he have a girlfriend yet?" From the time my son was about 2, I knew. I struggled with what to do with that. I tried to make sure he knew that I loved him unconditionally. That I would always love him no matter what. So as a teenager when he walked into our bedroom and said "Mom and Dad - I have something I want to tell you...I'm gay." I wasn't surprised at all. Sure I worried. How was I going to make sure that this son of mine, the fruit of my loins who would grow up in this football player's body, into a Black man with all of the stereotypical responses both positive and negative that he'd encounter; how would I make sure he was prepared for the cruel world waiting ahead? To flourish, comfortable in the skin he was in. Strong in his beliefs and aspirations. Equipped with what he would need to stay balanced. Inspired by Audre Lorde's There is No Hierarchy of Oppressions come learn about this mom's journey through the intersections of identity which make us complex, make us human and are the key to guiding our relationships and interactions. Participants will have the opportunity to explore systems of oppression, draw upon their personal and professional experiences to make connections to supporting students and staff in their school communities while learning about intersectionality and the notion of identity.
Twenty Questions for Twenty Years
Presenters: Peggy McIntosh and Eddie Moore, Jr.
Grand Ballroom C
Peggy McIntosh and Eddie Moore Jr. will host a panel of people who have been attending WPC for a number of years and are involved in education. They will solicit twenty contributions from twenty different members of the audience on questions they have or topics that are on their minds in connection with WPC's concerns. One or two members of the Panel will choose to respond briefly. The aim is to let the audience set the agenda.
Friday, March 22, 2019 – Concurrent Workshop #5 (2:30 – 4:00 p.m.)
Moving Justice Beyond Anti-Oppression: Centering Wholeness and Healing in 2019
Presenters: SEED Co-director Jondou Chase Chen and SEED Associate Director Motoko Maegawa
Room 315
This session will provide a facilitative framework to move social justice from focusing only oppression and resistance to also including wholeness and healing. We will introduce participants to the National SEED Project (Seeking Educational Equity and Diversity), a 32-year-old facilitation training program that centers learning and relationship-building as necessary for individual and collective justice. Our method is grounded in gathering people together in intentionally-structured and ongoing conversations where people reflect within themselves, share stories, and participate in experiential learning about social systems in order to grow capacity for change. This session should particularly benefit those who are committed to taking active leadership roles in building more just institutions, organizations, and communities.
TIME TBD
Persistence, Disturbance, Transformation: 20 years of WPC + 25 years of The Color of Fear
Presenters: SEED Leader Hugh Vasquez and LaShawn Route Chatmon
This session will explore how 20 years of WPC and 25 years of "The Color of Fear" provide learnings and insights into current day social justice efforts. History reveals that social justice will not come about without disturbance, persistence and a deep sense of linked fate. In addition, we have to have the courage to take action without knowing if our actions will make a difference. WPC and The Color of Fear are two examples of efforts that exemplify transformation when it comes to race and racism. This session will highlight lessons that can be applied to current social justice challenges and engage participants in thought-provoking ideas to continue working to transform society where everyone belongs and inequities diminish.
We hope to see you there!
Comments
No comments made yet. Be the first to submit a comment