By accepting you will be accessing a service provided by a third-party external to https://nationalseedproject.org/
SEED Founder Peggy McIntosh to Give Free, Public Lectures in Spokane, Wash.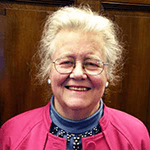 This week, SEED founder Peggy McIntosh will be in Spokane, Washington to give free, public lectures at two universities and meet with members of the institutions' communities.
On Tuesday, February 4 at 7 p.m., she will discuss race, gender, and privilege in "Unpacking the Invisible Knapsack," at Gonzaga University, in the Jepson Center's Wolff Auditorium. This lecture is free and open to the public.
The next day, she will hold a workshop for Gonzaga staff and faculty from 12 to 1 p.m. in the Foley Center Teleconference Room. For more information, please contact David H. Garcia with the Unity Multicultural Education Center at (509) 313-4105 or Garcia@gonzaga.edu.
On Thursday, February 6 at 7 p.m., she will give a free, public lecture on "Unpacking the Invisible Knapsack: Privilege, Education, and the Vision of Achieving Inclusion," at Whitworth University, in Weyerhaeuser Hall's Robinson Teaching Theatre. She will also spend the day meeting with students, faculty, and staff. For more information, please contact Carolina Beck at (509) 777-3434 or cbeck@whitworth.edu.
We hope SEED folks and friends in the area will attend and say hi!
Comments
No comments made yet. Be the first to submit a comment