SEED Leaders Share How Lesson on Hair Promotes Inclusion and Social Justice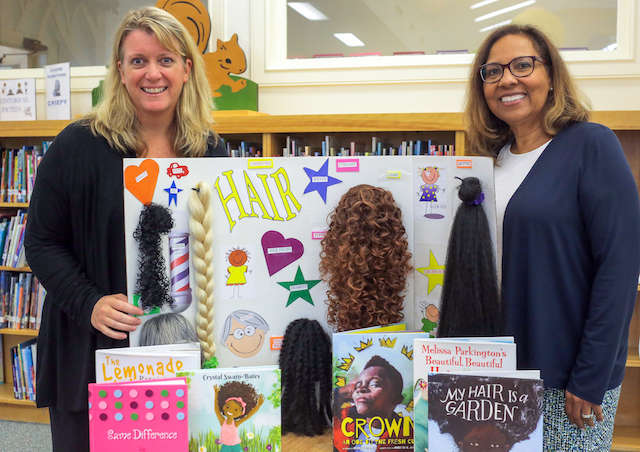 Comments by students about each others' hair may come from natural curiosity, but can be especially uncomfortable or unwelcome for students of color. That's why two SEED leaders at a school in Delaware created an activity on the science of hair that also incorporated lessons on diversity, tolerance, kindness, and inclusion.
In "The Science of Hair: A Lower School Lens for Exploring Diversity," at Independent Ideas: The Independent School Magazine Blog, SEED Leader Ann Sullivan, the lower school librarian at Tower Hill School in Delaware, explains how she and fellow SEED Leader Dyann Connor, the school's director of social justice, incorporated a lesson about hair into their inclusivity curriculum.
In addition to teaching students about the scientific aspects of hair like color, follicles, and keratin, Sullivan created an interactive board featuring extensions of different types of hair. "I felt that if they had the opportunity to express their curiosity with an appropriate medium, it would discourage the undesirable act of reaching for a classmate's hair," she said. In the article, she also shows how the lesson fits into the school's larger social justice program, and offers some tips for how to be proactive instead of reactive in diversity programs.
Connor added that there are many ways teachers can add anti-bias, equity, and inclusion work to their classrooms, "including adding a wide variety of perspectives to the content taught and inviting students' to bring their full, authentic selves to the classroom through their stories and personal narratives."
Showing people how to use their own experiences and those of their students to widen and deepen curricula and make communities more inclusive is at the heart of what SEED does. We're delighted to see this example from Sullivan and Connor of equity in action and grateful they have chosen to share it.
Photo: Ann Sullivan (L) and Dyann Connor (R). Photo credit: Kirk Smith.
Comments
No comments made yet. Be the first to submit a comment