SEED Summer Staff Member Christopher Avery a Finalist for Teaching Tolerance Award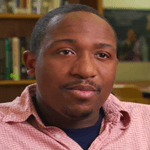 SEED Summer Staff Member Christopher Avery was selected as one of the 10 finalists for the 2014 Teaching Tolerance Award for Excellence in Teaching.
Teaching Tolerance, a project of the Southern Poverty Law Center, offers the biennial award to recognize K-12 educators "who demonstrate excellence in their efforts to reduce prejudice, improve intergroup relations and create an equitable school environment." Five winners will be selected in May.
Avery is director of community life at The Haverford School, an all-boys prep school in the Philadelphia area, where he has worked for 14 years, also teaching eighth-grade history. He first attended SEED in 2007, and was asked to join the summer staff in 2008 to help train new SEED leaders. Additionally, he has led local SEED seminars at his school and trained over 100 participants.
In the new book from the National Association of Independent Schools (NAIS), Diversity Work in Independent Schools, Avery offers his thoughts on the impact of SEED at Haverford and on him personally in the piece, "Professional Development Through SEED: A Practitioner's Perspective."
We congratulate Chris on being recognized by Teaching Tolerance, and thank all of the finalists for their commitment to making schools more equitable and welcoming for all.
Comments
No comments made yet. Be the first to submit a comment