SEED to Present at and Sponsor Creating Change Conference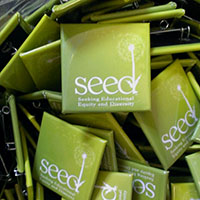 The National SEED Project is proud to be both a presenter and a sponsor at the 26th National Conference on LGBT Equality: Creating Change, January 29 to February 2, 2014 in Houston, Texas. We'll be sponsoring the Schools and Education track of programming, and offering a workshop on "Laying the Foundation for Ongoing Conversations on Race and Gender in Schools."
Workshop Date: Saturday, February 1
Time: 9 - 10:30 a.m.
Room: Look on grid in your registration packet
In the workshop, facilitated by SEED Co-director Emmy Howe, Associate Director Gail Cruise-Roberson, and Staff Member Donald Burroughs, participants will experience, through interactive exercises, some of the methods from SEED that have for 27 years engaged teachers, parents, and community leaders from all grade levels and geographic locations to create gender fair, multiculturally equitable, socioeconomically aware, and globally informed education.
In the interactive workshop on Saturday morning participants will look inward at how they were schooled to deal with diversity and connection, as a necessary prelude to creating community and and curricula that empower all children and families. They will experience SEED's methods of intentionally structured group conversation to create a democratic discourse that includes input from all voices. SEED engages allies from dominant groups in listening, learning, and taking thoughtful strategic action in order to help break down patterns of oppression.
We hope to see some of you at the conference and the workshop. Look for Donald, Gail, Emmy, and Dana Rudolph, our online content manager. Send us a quick note via Facebook if you will be there. We will be planning a small get-together on Friday or Saturday.
If you're already a SEED leader, the workshop will be a great place to refresh your skills or to refer friends who might be curious about SEED. If you're not a SEED leader, we welcome you to come experience some of what SEED has to offer. If you can't make the workshop, look for the SEED table in the exhibit hall to say hi and pick up a lovely SEED button to wear.
Comments
No comments made yet. Be the first to submit a comment