The Gated Community of the Heart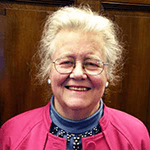 SEED founder Peggy McIntosh writes about "The Gated Community of the Heart" at Women Change Worlds, the blog of the Wellesley Centers for Women, SEED's parent organization.
She reflects on the shooting death of Trayvon Martin by George Zimmerman, and how the lessons she learned as a child parallel some of those learned by Zimmerman. She urges educators and parents to help keep children's minds and hearts more open and less gated when it comes to the question of who does and who doesn't "belong" in a community.
Comments
No comments made yet. Be the first to submit a comment