Your Help Needed to Spread Equity in Education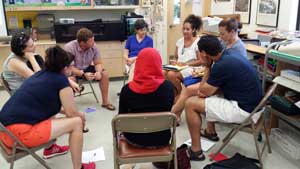 SEED friends: Your commitment to equity is more important than ever before.
In the wake of the recent election, the level of public attacks on women and girls, members of the LGBTQ community, Muslims, Jews, Latinos, Asians, African Americans, and their advocates and allies has increased. There is a growing need to encourage difficult and thoughtful conversations across difference, and for 30 years the National SEED Project has provided people with the tools to do just that.
Over the years, SEED has empowered thousands of leaders and institutions like yours with methods to communicate effectively in ways that lead to positive change. Our strategies rely on calling in all people--and all voices--to share about and listen to each of our lived experiences. Our staff brings decades of educational and community experience together to constantly refresh our materials, helping prepare people to lead equity work in the present climate and in their local context.
We know that we're onto something at SEED because year after year we continue to partner with new institutions and train more and more leaders. We have received record numbers of requests in the past few years for assistance from schools and other institutions trying to create spaces for authentic conversations where both adults and young people can work through their differences with respect.
There remain many underfunded institutions, however, that want to take advantage of SEED but lack the financial wherewithal to do so.
Your donation will build the SEED Scholarship Fund that will enable 10 to 20 public school leaders to attend New Leaders Week and then run SEED seminars at their schools. These seminars create more inclusive and equitable learning environments for students as well as more supportive environments for the adults who care for them. You can help counter the types of threatening speech and actions now occurring throughout the country, which damage students' ability to feel safe and learn. By ensuring that all institutions can participate in SEED, you help our next generation of students to become the community members and leaders that we need them to be.
Please consider making a holiday donation to the National SEED Project this year. You may donate securely online through our parent organization, the Wellesley Centers for Women (put "SEED Scholarship Fund" in the "Additional Gift Comments" field), or mail it to:
The National SEED Project
Wellesley Centers for Women,
Wellesley College
106 Central Street
Wellesley, MA 02481
(Attention: SEED Scholarship Fund)
In solidarity,
Gail Cruise-Roberson, Emmy Howe, Jondou Chase Chen
National SEED Project Co-Directors
Comments
No comments made yet. Be the first to submit a comment