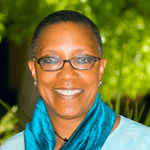 Patricia A. Matos, Greenwich Country Day School, 6th grade science teacher, SEED leader
There are rough days and there are great days. Facilitating SEED is not easy work; sometimes it takes all your skill at yoga breathing to get you through a moment (assuming you remember to do it!). What makes SEED tough? Sharing of yourself. Leaning into discomfort. Facing the societal inequities and seeing where you fit within those constructs. Facing your own privilege. And this is what the participants do! While these make SEED a personal journey for every participant, being a facilitator has its own challenges.
Mellody Hobson, president of Ariel Investments, explains in this TED Talk why we need to talk about race rather than being "color blind."