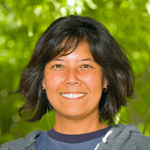 Associate Director
"Never doubt that a small group of thoughtful, committed citizens can change the world; indeed, it's the only thing that ever has." — Margaret Mead
I first came across this quote while studying education at Iowa State University. Just having come across it, it was one of those that went up in my first social studies classroom when it came time to decorate the space with those motivating quips we hope will speak to students. In my classroom, it became a mantra. All my students knew the quote and I was glad in thinking they and I fully understood the meaning of Margaret Mead's words since we could recite it.
When I made the move out of the classroom and into administration, Ms. Mead's words headed my résumé, an indication to my future employers that I would be a leader who believed in the positive outcomes of a group. And indeed, when I became a Head of Middle School, I again oft repeated the quote to myself and my colleagues, thinking that through pure knowledge of the quote, I was employing it.
While I have carried Ms. Mead's words with me throughout my work in education, it is SEED that helped me fully understand how to bring to light the vision of her charge. The facility with which an educator must adapt to the diversity of groups she is a part of can be daunting, but ultimately it is what the profession is about. In fact, it is the exact aspect of the work that I love and gives me true understanding of Ms. Mead's words. Indeed, it is this passion for working with others through productive engagement that drives me both in and out of my work days.
And SEED is the means through which I learned how to encourage, support, and participate in active engagement that allows all members to feel and be committed to change. Becoming a leader in SEED 23 (2009), and now a member of the SEED staff, has opened my eyes to an understanding about education and my role in it. I have found a place where my desire for working with students and faculty merge with meaning. I have found a means of empowering myself and others through productive conversation and collaboration. That empowerment might be personal or professional, but it is always thoughtful when approached through the structure that SEED helps leaders understand and implement, not only in our SEED sessions, but in our daily interactions with friends, family, and coworkers.