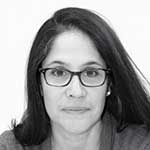 Whether working as a Spanish teacher, outdoor educator, summer tour director in the USA or Latin America, or being a parent, I always use the same saying, "You may not always be comfortable on this journey, but you will always be safe in this space." To me, that is also true with SEED, where I appreciate being validated but, more importantly, being held accountable in this work as we collectively join together to combat bias and embrace the gift of diversity in our schools.
I learned about SEED my first year of teaching in 1994, but it was six years and three schools later that I got to experience it first-hand by joining a teacher SEED group at the Park School of Baltimore. Five years after that and another two schools later I was part of SEED New Leaders Week. So, in many ways, SEED has had some role in my life since my first year teaching 25 years ago. I've facilitated staff SEED I and SEED II seminars in my school; a parent group called SEEDfolks; and, in 2010, introduced SEEDlings to my middle school. SEEDlings is a full-year elective course for 7th and 8th graders. I am excited to be joining SEED staff this summer for the first time and continuing to be part of the growth of this magical work.
For me, SEED is home. My favorite part of leading SEED for my students is when I close the door to my classroom and ask, "What's going on in the news, in the world, in your heads, and in your hearts?" At this moment, students have full control of the direction of our conversation, keeping it relevant to them and opening my eyes and heart to what is important to them.
SEED is also in the undercurrent of all I do as a middle school GSA (Gender and Sexuality Alliance) advisor and as a consultant in my own business, LGBTeach, which focuses on working with schools and organizations to create inclusive climates through policy and curriculum development and through my annual conference called the LGBTeach Forum.