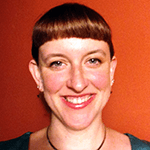 I was born in Baltimore, MD, and lived there for the first seven years of my life. My family then located to Macungie, PA, (near Allentown) where I grew up. I studied English Literature at the University of Pittsburgh as an undergraduate and earned my M.A. in English Literature from Northwestern University in 1994. But it wasn't until after nearly 10 years in the corporate world in Chicago (starting as a script writer for computer training simulations, then riding the Internet bubble through project management and client service in digital consulting companies) that I returned to Northwestern for my M.S. in Education and became a high school English teacher.
During my first school year, 2004-2005, SEED became an important part of my life when I attended the program in Township District 113, home to Deerfield and Highland Park high schools in Chicago's North Shore. SEED was an integral part of understanding my identity as a white, middle-class, straight woman and fostered great critical reflection about me, my classroom environment, my pedagogy, my curriculum and my relationships. Humbly, I accepted my District's offer to attend SEED 19 in 2005 and to become a facilitator. I have co-facilitated SEED 1 and SEED 2 workshops and learned so much from my powerful partnerships and experiences with Robin Oliver, Amy Bricker, Dan Cohen, Gloria Gibson, Marisa Fiorito, and Mirah Carmichael.
My SEED training continues to support me in my growth as part of our school equity planning team and as I have led workshops at the White Privilege Conference (WPC 10-14) and at Pacific Education Group's Summit for Courageous Conversations (2008, 2009, 2011, 2012). I am honored to be part of the SEED summer staff and look forward to all the learning and new relationships that will encompass.