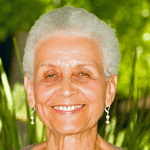 When SEED Co-director Emily Style came to consult at the Office of Equal Educational Opportunity in 1989, our staff was mired deep in discussions about multicultural education. One of my colleagues, Rebecca White Johnson, had heard Emily speak at William Patterson College and had invited her to meet with our staff. Emily told us that in a few weeks she would be going off to Minnesota for a SEED New Leaders' Week. We found this information interesting but beyond our world of realistic possibilities.
But two of us, Ivy Rios and I, experienced the rare privilege of attending the SEED New Leaders Week at St. Olaf's College. We came back from the week all fired up. We excited our entire office about Peggy McIntosh's Phase Theory and windows and mirrors. We added words like inclusion, serial testimony, and re-envision to our vocabulary. Through our workshops and conferences — which we reframed to include the wheel of oppression, circles of our multicultural selves, Phase Theory, and the many lovely poems that we had learned at SEED — we spread SEED ideas all over New Jersey.
Our office dialogues on multicultural education became more energized and focused. We published Guidelines for Multicultural Education for the districts of New Jersey and organized a well-attended conference. Our office helped lay the organizational foundation for the National Association for Multicultural Education.
I had discovered Peggy McIntosh's Phase Theory before I had attended SEED. It spoke so clearly to my dislike for hierarchy and domination. When I heard Peggy present Phase Theory, I embraced Phase Four: the ground of our being, a body in the body of the world, work for survival of others for therein lies your own best chance for survival, the teacher becomes the learner, and the learner the teacher.
The year following my training, I led a SEED seminar at Seton Hall University, with participants coming from area schools. I also actively participated in a New Jersey-New York network of SEED leaders. I was delighted to be asked to join the SEED New Leaders Week staff for the next summer at Seton Hall University.
For several years, with Dr. Charley Flint of William Paterson College, I co-led a seminar for high school and college teachers supported by the Wellesley Center for Research on Women [now the Wellesley Centers for Women]. This group met monthly and offered support to women and people of color in institutions in New Jersey and New York.
I found the SEED New Leaders Week so rewarding that it became the highlight of my professional work. I could sustain office politics and political setbacks from September to May so long as I was able to join my SEED colleagues for the summer training.
My summers often included three SEED weeks. In 1992, when Cathy Nelson founded Minnesota SEED, I extended my SEED summer to include a week there, in addition to the national New Leaders Week. Later, when Emily Style initiated New Jersey SEED, she invited me as a presenter and later as a small group leader.
In 1990, the first year that I served on the SEED summer staff, I saw the documentary Women of Summer, which motivated me to begin researching the history of Brick School, an institution located three miles from the town in which I was born and lived for many years. As a result of this interest, in 1994, the Brick School History Project staged a photographic exhibit, "Answering the Cry for Life and Liberty: the History of Brick School and Junior College." After my retirement from the New Jersey Department of Education in 1998, I took classes at Scribe Video Center in Philadelphia and produced The Brick School Legacy, a documentary video.
Also following my retirement, I joined with Barbara Gadegbeku and Eloise Tinley, two other SEED seminar leaders, and organized Women in Conversation in Plainfield, New Jersey. After a few years, the initial women's group expanded to include Girls, Boys, and Men in Conversation. Volunteers from our group also hold hour-long monthly conversations in three senior residences.
Until the 1960s, I had shared the narrow focus of many teachers who lived in my little North Carolina town. I wanted to own a beautiful home, drive a nice car, and if lucky, go on a vacation to New York in the summer. I hated the backwardness of my community, the unequal schools, rigidly segregated public facilities, the poverty and ignorance which pervaded the region. But I saw no way that I could change anything.
The civil rights movement awakened a new feeling of personal power and a determination to work for change. I vowed always to be involved in the effort to liberate the hearts and minds of oppressed people.
SEED satisfies my deep yearning for connection to other people who share my passion for social justice for all groups that have been denied full membership in the society. Having experienced what it is to be looked upon as "not good enough," I welcome being part of a group that recognizes the full humanity of all: people of color, women, LGBTQ people, immigrants, the undocumented, the disabled, the non-English speaking, the old, and the poor. In a slight twist on the words that Ken Medema used to sing on the opening night of summer training, "SEED is bound together and finely woven with love!"